triptychon #2
digital altar piece for sankt nikolai kirke
materials: 32 networked microcomputers, LED light and code
dimensions: 289x161x12 cm
year: 2023
"triptychon #2" has been commissioned by sankt nikolaj sogn, holbæk to fill the amazing oak tree alter frame from 1872 by church architecht christian hansen while the painting "kristus velsigner et lille barn" (1873) by carl bloch, which normally hangs in the frame, travels to the national gallery of denmark for the exhibition "carl bloch - seduced".
tritychon #2 consists of 32 gold plated and custom built microcomputers, each carrying 14 bright, white LEDs. the microcomputers are networked and powered over CAT-6 ethernet cables. 11 algorithms in interplay, makes for ever changing light patterns, complex and meditative.
this piece tries to facilitate a dialogue between the digital and the spiritual, not positioning either in a hierarchy or in opposition, but as something which flows through all.
the video above first shows the installation on a normal day, second during a during a magical evening concert in the church. the concert began at dusk and while the music played the church grew more and more dark, letting the light installation shine intensely. great thanks to church organist jytte lundbak for organizing this event, and playing such magical music on the church organ of sankt nikolai.
the electronic circuitry and code structure of this installation derives from two earlier installations by jacob remin. in this way, triptychon #2 is the third in a family of PCB based dynamic light installations; the mother being cloud array and larger brother skyen. the #2 in the title is a nod to cloud array, hinting that this is, perhaps, the first triptychon by the artist.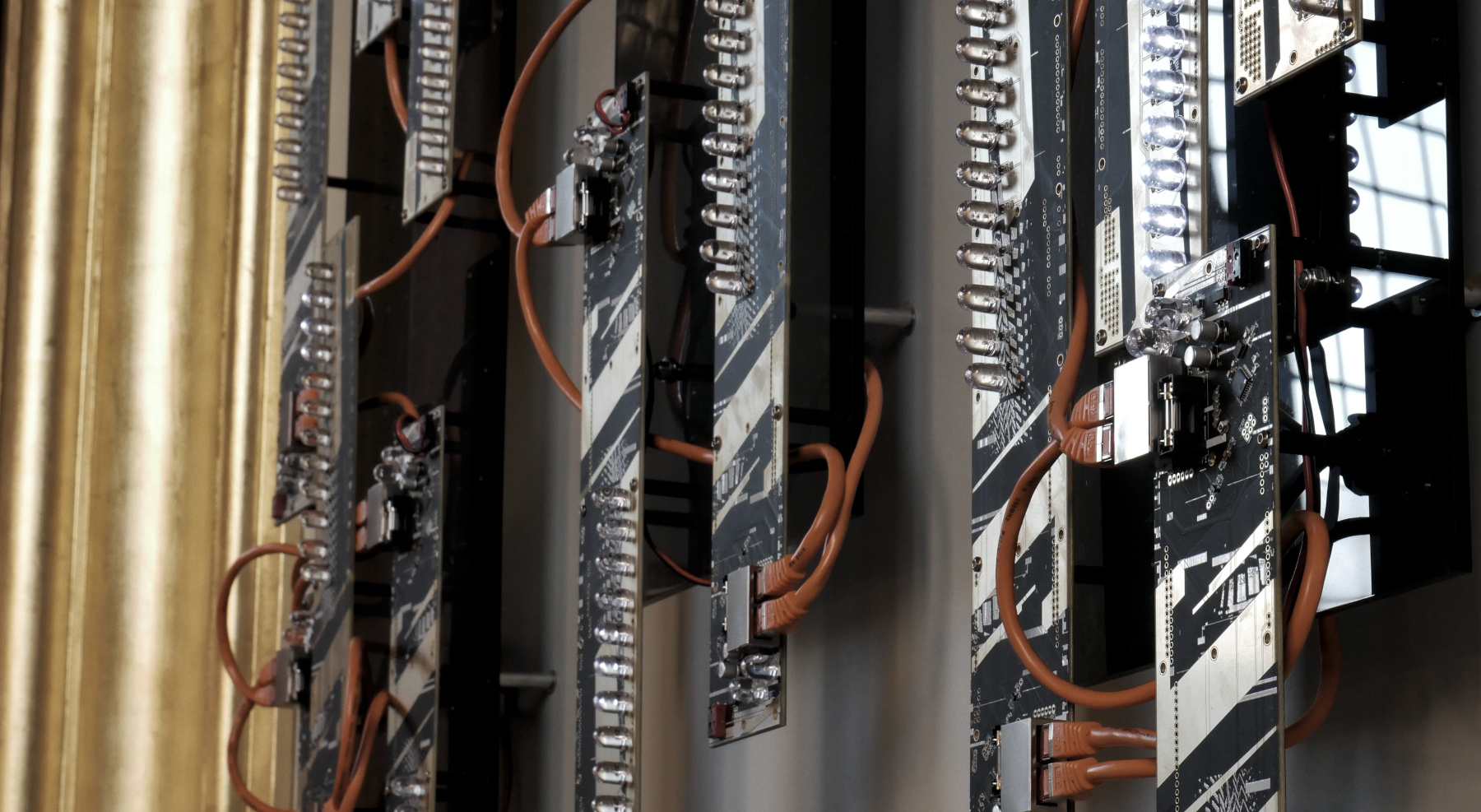 vesterbro lokal tv did a reportage from the carl bloch exhibition with an interview with lene floris, speaking about the process and this piece. see it on youtube here.
triptychon shares hardware design with skyen and the circuitry is available as open source. the code for triptychon #2 is avaiable here.
special thanks to curator lene floris for making this project happen.
team:
curator: lene floris
electronics consultant: peer klausen / gadget group
installation support: henning andersen
created with kind support from the danish arts council, national gallery of denmark, national museum of denmark, holbæk provsti, sankt nikolai sogn, holbæk, collega and statens værksteder